IBEW 1837 Business Rep. Matt Beck Retires
There have been numerous watershed moments in the labor movement in Maine and New Hampshire, and for the past three decades – Matt Beck has been at the forefront for nearly all of them. From a contentious effort, which successfully stopped an attempt to bring "right to work," to the Granite State in 2011 – to supporting his union brothers and sisters on the picket lines during the strike at the New Hampshire Electric Co-Op in 2018 – Beck has had his hand in numerous events through the years, in addition to countless organizing campaigns and contract negotiations.
After more than 35 years of dedication including nearly 17 on the Union's staff, Brother Beck retired on April 14th, 2023 as Business Representative and Organizer of the IBEW Local 1837. He became a member in 1987 while working as a producer and director for WGME, the CBS affiliate in Portland, Maine. He was part of a group of broadcast professionals from Binghamton, New York who moved to the Maine coast. He quickly got involved in the Union, serving as a shop steward for 15 years at WGME, and as the chief steward for more than two years.
During his tenure, he not only directed newscasts and worked in commercial production, but he also pridefully took on several important projects including telethons for both the Muscular Dystrophy Association and Children's Miracle Network. Both events raised millions of dollars for research and services for children with neuromuscular diseases and for families in Maine who need specialized pediatric care.
"He poured his heart and soul into the telethons," said former co-worker and long-time WGME anchor, Kim Block. "Matt worked tirelessly to produce and direct these telethons and got to know many of the families and children personally. His genuine compassion and his incredible skills and managing many hours straight of live TV at a time made him a joy to partner with and Maine children and families are better off for his contributions."
Described as a "genius" by another former WGME co-worker and longtime IBEW Local 1837 member, Cindy Valente called Beck one of the smartest people she's ever worked with. Valente said Beck "raised the bar" at WGME and could visualize any request – becoming a trustworthy and "go-to" person.
"Matt is a person of the highest integrity," Valente said. "He is admired, devoted to his family, and puts his everything into anything he did."
Valente added when Beck announced his departure from WGME, he wrote a heartfelt letter to staff saying he wanted to help people – and that's exactly what he did.
Brother Beck transitioned out of the broadcasting business in August of 2006, bringing his expertise to the IBEW Local 1837 as an Organizer and eventually added Business Representative to his title. His passion for workers' rights, which was inspired by his father, was clear even before he landed the job.
In his cover letter sent to Maine AFL-CIO President Cynthia Phinney, then the Business Manager for IBEW Local 1837, he wrote, "I am proud to have followed in my father's footsteps as a union Shop Steward in broadcast communications. I have vivid memories of helping him paint picket signs as WOR in New York endured several strikes during the 60's and 70's. At an early age, Barney Beck taught me the importance of union representation for working people. It was a lesson that I have never forgotten."
In addition to his commitment to the Union, Beck also served on numerous committees including the Legislative Committee of the Maine AFL-CIO. Through his work with the IBEW, he met Julie Dawkins, the Business Manager for IBEW Local 2327. She described him as "one of a kind," and a mentor.
"He taught me things without even knowing it," Dawkins said. "He's just a great labor person, period. If you're on a committee with Matt – he thinks deeply about everything, and he's always good with advice. There have been many times when I'm dealing with situations that I ask myself "What would Matt say?" That's just the type of respect I have for him."
Beck's absence at the local will be hard to ignore. Not only did he bring a wealth of knowledge, which is arguably unmatched, he also brought confidence and calm.
"Matt is a reassuring voice in a sea of chaos. He's the constant that we've all relied on over the years for his writing skills, his political insight, or many times in my case, for technical assistance," said Renee Gilman, the Assistant Business Manager for IBEW Local 1837. "He's witty, he's steadfast in his convictions, and he's someone you can always count on to be levelheaded and objective. His calm demeanor and quiet confidence are assets that will be greatly missed by all of us here at 1837."
"Matt has always been a great friend, mentor and union supporter," said current IBEW Local 1837 Business Manager, Tony Sapienza. "Matt's dedication to Local 1837 and the labor movement is an inspiration. I wish Matt all the best in his retirement years. Thank you, Matt, for all the years of leadership, guidance and support you have given to me personally and to Local 1837."
Brother Beck reassures us that he is just a phone call away as he begins to embark on his well-deserved golden years. The Local, as well as many others, plan to hold him to his promise. In keeping with the spirit of solidarity, he has committed to remaining a member of IBEW Local 1837 and paying his dues as he always has.
"I feel very lucky to have worked with so many great people over the years, first in broadcasting and then in the labor movement. Having the good fortune to land a job with the IBEW where I could help workers make things better for themselves and their families has been a tremendous privilege," Beck said.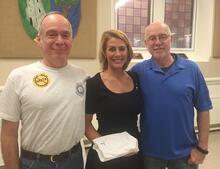 Portland Labor Day Breakfast in 2017 with IBEW Local 1837 Organizer and Business Representative Matt Beck, Sara Nelson from the Flight Attendant's Union, and Mike Cavanaugh from the National AFL-CIO.